Tools to Track Your Law Firm's Performance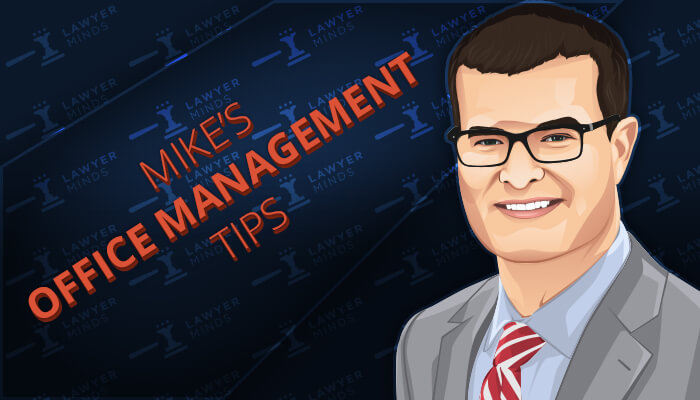 To run a successful law firm– whether it's a solo practice or a large firm– you'll need to not only excel in the areas of law you're practicing in, but also in all matters of running the practice itself. Running a legal practice comes with its own, unique set of challenges that even the most prepared lawyer setting out to start a new practice may find themselves overwhelmed with. I'm here to help make the job of running your law office just a little easier. Welcome back to Mike's Office Management Tips.
— Mike Campbell
When everyone in your law firm operates efficiently, you'll improve case outcomes for clients and maximize your revenue. With technological advances, there are a number of tools you can use to track your law firm's performance so you can make necessary changes and improvements. Before we get into the tools you should consider using, let's take a look at what you should be tracking.
Performance Metrics You Should Track
Your law firm has accumulated massive amounts of data, but you may not be using it to your advantage. Remember that you can't manage what you don't measure. In order to know what tools your law firm will benefit from the most, it's essential to consider the performance metrics you should be tracking.
Cycle Times. How long your files are open can indicate how efficiently you're managing your caseload. Cycle times will vary depending on the state and county you're in. They'll also be impacted by the practice area and the complexity of individual cases. If, however, you track your cycle times over a period of time, you'll be more aware of your case management efficiency.  
Proposed Budgets. Every case you take on comes with a different price tag. Witness depositions, accident reconstruction experts, site inspections, and thousands of pages of document review contribute to the cost. To ensure you're communicating your adherence to proposed budgets, keep track of your spending, including actual costs and billing fees and expenses.
Settlement and Verdict Evaluations. Your clients rely on you to achieve full and fair settlements or verdicts on their behalf. Being able to value a case accurately will allow your clients to manage risk over the course of time.
Litigation Reports. It's important to be aware of your communication and compliance with reporting deadlines. Deadlines are always important, and providing timely and thorough information will appease your client and improve your case success rates.
The Tools Your Law Firm Needs
It's more than likely that you already implement versions of the tools I'll discuss below. With the right technology, you can set and meet goals, as well as eliminate time-consuming distractions. Not only will that improve your law firm's performance, but you'll satisfy more clients and increase your business revenue.
Time Tracking Software
To capture all of your billable time, take advantage of time tracking software. You can separately track the time you spend on client management, internal communication, performing web or desktop activities, receiving phone calls, and more. Many of the software out there use the latest AI technology to create accurate timesheets. Not only will you have correct timesheets, but you'll be able to share real-time project reports with your clients.
In addition to tracking your time spent managing clients' cases, you can also use time tracking software to see what your employees are doing, their work capacity, and how much time they're spending on individual cases. This way, you can work to implement efficient workflows that improve your firm's overall performance.
Popular time tracking software include:
Timely
TimeSolv
TimeCamp
Chrometa
Time Miner
Social Media Management Tools
To build an effective online presence, you need to know how to use social media marketing. When you invest in efforts to reach a wider audience, you can significantly increase your profits. Several social media management tools can help you schedule status updates on social media channels, improve traffic flow to your website, and get maximum user engagement. With social media management tools, you can also track ad performance, content performance, and more.
Popular social media management tools include:
Hootsuite
Social Report
Buffer
MeetEdgar
Sprout Social
Legal Billing Software
Legal billing software allows any person in your law firm to send bills digitally to clients easily. In addition to that, you can set your preferred billing rates by the user, choose hourly fees, flat fees, and contingency fees, and quickly prepare invoices.
Popular legal billing software includes:
Clio
LawMaster
LawTrust
Needles
TekLAW
Law Practice Management Software
The right legal management practice software can significantly improve your firm's productivity and efficiency. This type of software can help you effortlessly automate your legal activities, from conflict checking to case management, appointment scheduling, and more.
Popular law practice management software includes:
ActionStep
LEAP
App4Legal
Proclaim
Athennian
No matter how long you've been practicing law, it's crucial to stay on top of legal technology developments and use the latest software options available. Not only will this help you track your law firm's performance and make your practice more effective, but it will also help you stand out from the crowd.