The Cost of Starting and Managing Your Own Law Firm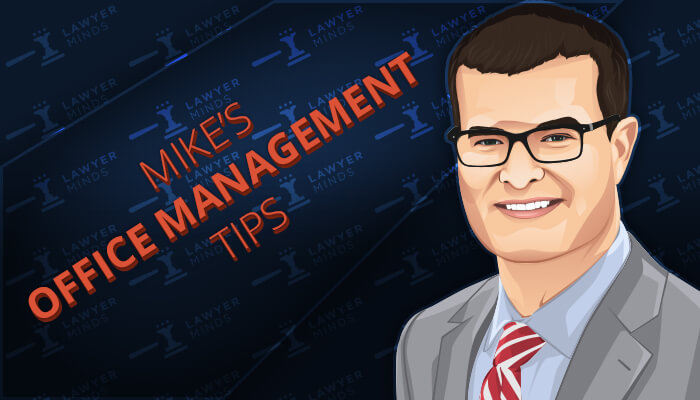 To run a successful law firm– whether it's a solo practice or a large firm– you'll need to not only excel in the areas of law you're practicing in, but also in all matters of running the practice itself. Running a legal practice comes with its own, unique set of challenges that even the most prepared lawyer setting out to start a new practice may find themselves overwhelmed with. I'm here to help make the job of running your law office just a little easier. Welcome back to Mike's Office Management Tips.
— Mike Campbell
Whether you've been working at a law firm for a long time or you're fresh out of law school, you have to consider what it means to run a business if you want to operate your own law firm. Before making any big decisions, ask yourself if you want to run an entire business, if you're committed to being a business owner and leader, and if the time you spend working on your business is as important as your billable work. If you can answer yes to all those questions, keep reading.
Why Should You Start a Law Firm?
There are many benefits to starting your own law firm. For starters, you won't just be practicing law anymore. You'll be building a business, a brand. If you play your cards right, you could develop a significant clientele and become well-respected in the legal community.
When you own your own firm, you control the cases you take on. You likely have a specific type of law you want to practice. When you run your own law firm, you only have to move forward with cases you want to. No one can force you to take on a case you're not ready for or not interested in.
One of the biggest reasons why you should start a law firm is having the chance to develop a business model that works for you, your employees, and your clients. When you work for someone else's law firm, you typically don't have much control over the decisions. However, when you have your own business, you get to build the firm around your goals and desired workplace culture.
Understanding Law Firm Start-up Costs
While there are attorneys out there who have significant funds to get their law firm off the ground, you may not be in the same or similar position.  I know I had limited resources when I started my own firm and so I had two budgets:  A shoestring budget and a "wish list" budget.  For either, here are the essentials.
First, make sure you have enough money in the bank to keep yourself housed and fed for at least six months. Then, you'll need an office and office supplies, professional expenses, hardware and software, and a marketing strategy.
You may not find the perfect office space right away, and that's okay. Plenty of attorneys start with nothing more than a desk and a computer out of their homes. Many attorneys are even finding success in operating a virtual practice. When it comes to your office supplies, only pick up what you need.
In terms of professional expenses, you'll want to plan ahead for licensing, continuing legal education, malpractice insurance, memberships, and events.
When it comes to hardware and software, you'll need a computer, backup drive, document scanner, printer, and phone to start. Of course, the legal software you choose is based on what's best for your firm and what your needs are, so be prepared to do some research.
As you start to build your firm, you will want to consider your marketing strategy and how you'll attract new clients. So you're at least going to need business cards and a law firm website.
The Importance of Budgeting
Even if you think you're ahead when it comes to what you've spent on start-up, it's important to keep an accurate budget. If numbers aren't your thing, consider hiring an accountant. They'll explain what you can and cannot spend and what your projections are based on client activity. Something to consider at all times is your hard and soft costs.
Hard vs. Soft Costs
Hard costs are defined as those that get paid directly to a vendor on behalf of a client's case. Hard costs are, essentially, short-term loans extended to the client. The client should expect and understand these expenses and know they will be responsible for paying them back. Examples include court filing fees, witness fees, deposition expenses, medical record expenses, and laboratory fees.
Soft costs are also related to client's cases, but they don't result in direct payments to third-party vendors. Examples include copy costs, postage fees, legal research costs, electronic data storage, and faxing expenses.
Paving a Path to Success
There's no one right way to build a successful law firm. No matter what, it will take time, money, and perseverance. Remember to be honest with yourself, ask for advice from lawyers in your network, and always be upfront with your clients.