Reinventing the Courtroom in a Post-Pandemic Era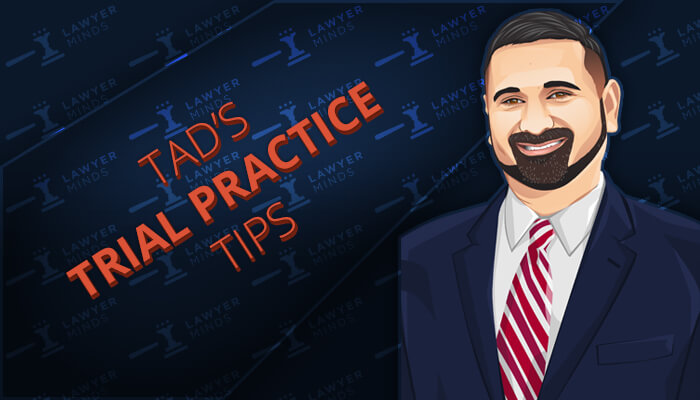 Join me as I talk tips for upping your trial performance game. Discussions are welcome in the comments section.
— Tad Thomas
The COVID-19 pandemic has presented unique challenges in the courtroom. Judges across the country have dedicated time and energy to protecting public health from infection while also doing their best to ensure Constitutional rights remain intact. Despite obvious risks and public anxieties, judges have begun to work through the challenges.
Lawyers have also had to adapt to changes in the courtroom. Virtual trials, altered courtroom layouts, and new technologies have become a part of the everyday. While the pandemic is still in full swing, we can look toward the future to see how the courtroom will be reinvented in a post-pandemic era.
How COVID-19 Affected the Courtroom
Judges and attorneys have had to rethink a trial at every stage—from the process of selecting a jury to deliberations and handing down a verdict.  In a multi-part series, Reckoning with Recovery, news articles from the United States Courts examine how federal courts are working to recover from the COVID-19 crisis. Federal judges discuss how the pandemic created a new normal, what they're doing to reinvent the jury trial, how courts are making juror safety a top priority, and how grand juries carry on as federal courts have gradually resumed operations.
For more than 230 years, the federal Judiciary has adapted and evolved along with society. Without a doubt, in-person trials are superior to virtual ones which will require the courts to continue to adapt. When COVID-19 cases spiked in March, court practices changed almost overnight, and virtual hearings made it possible to conduct most court-related activities.
In late August, the first in-person trials resumed. When jurors entered the courtroom, they were met with plexiglass shields, social distancing, no public gallery, digital temperature checks, and mask and disinfectant requirements. As the pandemic continues, these safety measures are still in place.
Not all courts have decided to resume in-person trials. Those that have tend to be located in areas of the country where coronavirus numbers are trending downwards. During the first in-person jury selections in the Northern District of Texas, Chief Judge Barbara M. G. Lynn sent prospective jurors a letter that explained the safety measures the court was taking, along with a form for them to list valid reasons to be excused.
According to Lynn, only groups of 16 people were interviewed by attorneys at a time. They were assigned numbered seats six feet apart, and each person received a kit with a face shield, cleaning supplies, a water bottle, a disposable badge, and instructions for social distancing. As a result, the majority of jurors expressed positive opinions regarding the court's infection mitigation efforts.
As of October, all but a few of the 94 U.S. district courts have returned to using grand juries. This is important because delaying grand juries and indictments has the potential to significantly extend the time it takes to complete an investigation while evidence grows stale. District courts have adopted new technologies in an effort to protect grand juries—many of which will have a significant impact on the courtroom in the post-pandemic world.
A Look at Post-Pandemic Courtrooms
The pandemic has forced states to figure out how to maintain access to justice while keeping court users, the public, and court employees safe. The solutions have shown resourcefulness, creativity, and a willingness to embrace new technologies. To continue to serve court users better, even after the pandemic has waned, old court procedures must continue to be modified to encourage long-term improvements.
In consideration of the changes that have been made, the Post-Pandemic Planning Technology Working Group of the Conference of Chief Justices/Conference of State Court Administrators has recommended courts consider the following principles as they continue to embrace technology:
Ensure principles of due process, procedural fairness, transparency, and equal access are satisfied when adopting new technologies.
Focus on the user experience.
Prioritize court-user driven technology.
Embrace flexibility and willingness to adapt.
Adopt remote-first (or at least remote-friendly) planning, where practicable, to move court processes forward.
Take an open, data-driven, and transparent approach to implementing and maintaining court processes and supporting technologies.
It's not just courtrooms and judges who will benefit from adopting those ideas. Attorneys can utilize those principles to support their clients better. With technology playing such a crucial role in the courts' response to the pandemic, it's clear that we can't leave those technological advances behind. Instead, we must use them to build upon the success we've seen amid the pandemic to serve our clients better and provide greater equal access to justice.