How to Develop and Present Visuals in the Courtroom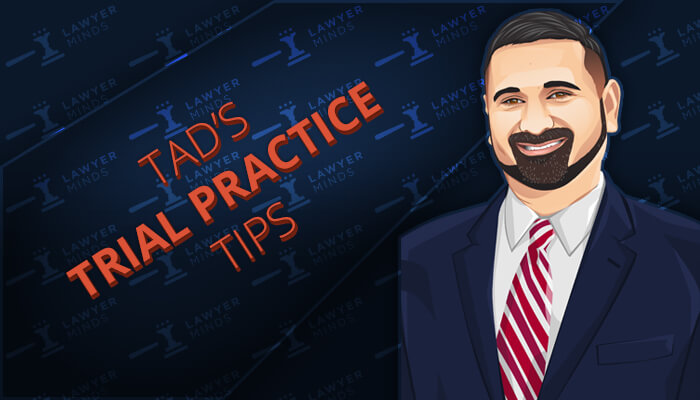 Join me as I talk tips for upping your trial performance. I'll cover all aspects of the trial, including jury selection, opening statements, direct witness testimony, cross-examination, closing arguments, jury instructions, and verdicts. Discussions are welcome in the comments section.
— Tad Thomas
Whether you've been handling courtroom cases for decades or you're just getting started, it's important to understand the usefulness of visual aids. With the right visual aids, coupled with good public speaking skills, you can give a convincing and credible presentation.
Creativity is not a skill everyone possesses, so establishing visual aids can be frustrating at times. Any special time you spend developing and presenting courtroom visuals will affect how successful you are to the judge and jury.
Tips for Creating Visuals for Trial
If you don't take the time to create useful visuals for your courtroom presentation, the jurors won't understand what's important, and they will quickly lose focus—which is detrimental for your client. Graphics and animations need to flow with the presentation to help the jurors understand the key facts. To create useful visuals, consider the following:
Focus and Objective. The most important part of creating courtroom visuals is establishing your objective. Once you can do that, you can prepare material that supports the objective in a simplified and organized manner. You don't need to go for the "wow" factor when your visuals are easily digestible and purposeful.
Audience. Who is your audience? Once you can answer that question, you can select the points you want to emphasize, know how to provide a useful level of detail, prepare the appropriate visual aids, and create a tone that is sensitive to your audience's circumstances.
Length and Pace. The human attention span is not where we'd like it to be. It's important to remember that when planning your presentation, the longer you go on, the less likely it is that jurors will remember your key points. It can be nearly impossible to regain the jury's attention once mental fatigue has kicked in. Judges also appreciate the use of graphics that reduce the length of time required for trial.
Theme and Simplicity. If you're presenting a large number of graphics, it's important to have a common style or look throughout the presentation. When you're thinking about that theme, consider what the jurors' expectations might be. You also want to ensure the graphics you're using to convey key points are simple and appealing. If you put too much information into one animation, jurors might not be able to follow along. If you're discussing complex matters, make sure the big picture is clear.
Consider Colors. For a visual graphic to be eye-catching, it needs to be high contrast. This means that text needs to stand out to the background, as do any animations, sketches, or other graphics. It's often recommended to use blue backgrounds with yellow text.
Bringing Graphics and Animations to the Courtroom
While we've discussed the importance of utilizing demonstrative aids in the courtroom, we also need to consider the possibility of overusing media. By doing so, you could risk losing the direction and personal connection between you and the jury. While your visual aids are important, remember that you can't build rapport if your face is always behind a screen.
To maximize your media impact, vary the use of your media through the trial. For example, consider using a simple PowerPoint in your opening statement to anchor your key points. During direct and cross-examination, the flexibility of trial presentation applications will let you move from any exhibit or video clip quickly and efficiently.
While poster enlargements and flip charts can seem outdated, there's something to be said for using them to serve as quick reminders for key terms and definitions. When it comes to supporting your expert's testimony, this is a good time to bring in high-powered computer animations and graphics. Finally, consider closing with another PowerPoint that will complement the testimony and bring the jurors back to the fundamentals of your case.
Electronic visuals aids can be highly effective for presenting a case to the jury when you know how and when to use them. When it comes to courtroom visuals, the old cliché "seeing is believing" bears some truth. Jurors expect that much of what they encounter will be visual, so you can leverage that expectation with useful visual aids to provide better education and create a bigger impact—one that is hopefully favorable for your client.