Arranging and Conducting Effective Legal Meetings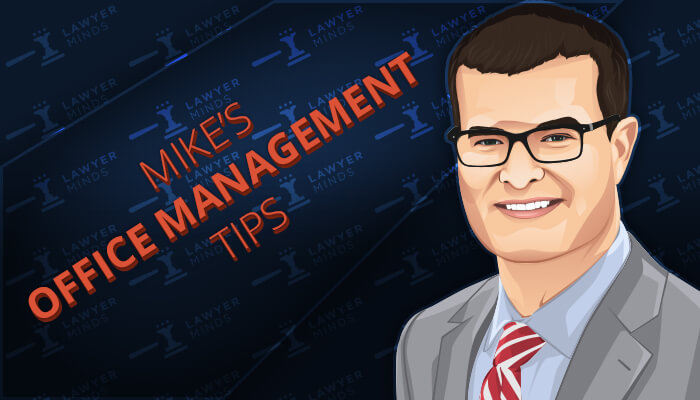 To run a successful law firm– whether it's a solo practice or a large firm– you'll need to not only excel in the areas of law you're practicing in, but also in all matters of running the practice itself. Running a legal practice comes with its own, unique set of challenges that even the most prepared lawyer setting out to start a new practice may find themselves overwhelmed with. I'm here to help make the job of running your law office just a little easier. Welcome back to Mike's Office Management Tips.
— Mike Campbell
As an attorney, you know that time is money. If you firm isn't effectively running meetings, you could be losing valuable hours. In order to arrange and conduct effective legal meetings, you need to consider the best ways to manage your office, employees, and clients.
Office Management
In terms of office preparation and management conducive for legal meetings, there are a number of things to keep in mind. First, you'll wan to make sure your firm has an efficient paperwork management system. This way, client and court documents are easily accessible before a meeting—even if you're on a time crunch.
Make sure you set a meeting agenda. Depending on your schedule, your assistant or someone else in the office may be completing this step, so you'll want to be sure to provide them with detailed notes. Be sure to only have one person on your team draft the agenda. That same person can guide the group discussion and make sure all the necessary points are covered.
You'll also want to make sure you build in time for discussion. Depending on the content of the meeting, it can be easy for the topics to stray. By building in time to your office's agenda, you'll keep the meeting on track and won't have to worry about cutting off important team contributions.
Employee Management
When a meeting can be scheduled ahead of time, it's useful to delegate the work that you want to go over. This way, everyone will have a role at the time of the meeting, and you won't have to worry about something not being covered.
How often you need to hold meetings will be based on the size of your team, the complexity of the work your firm does, and how easy it is to actually get everyone in the same room—even if that room is virtual. No matter how often you meet, make sure all the core talking points are covered and plan ahead for possible points that could cause contention. If two employees don't see eye to eye on a matter, think of a way to keep the conversation civil and to move past the issues as efficiently as possible.
Before the meeting is over, make sure everyone is aware of their tasks—new and old. This will ensure work continues to get down and you'll be able to cover new ground when it comes time for another meetings.
Client Management
When it comes to scheduling meetings with clients, you want to be constantly aware of your schedule and ensure your clients their time is valuable. As trial lawyers, our days are packed from the time we get up to the time to we finally get to bed. But when we're with our clients, they need to know that they have our full attention and understanding.
While the pen-and-paper method is useful for keeping track of some schedules and meetings, You'll benefit from syncing software that can send meeting invitations to clients digitally. You can offer multiple times that work for you, and let the client choose what works for them. Using a service like this will eliminate the need for lengthy email chains or phone tag.
You'll also want to be sure your meeting space is conducive for a comfortable, productive client meeting. Remember what they're going through and ask if there's anything that could make the meetings easier on them. They will appreciate the accommodation, and you'll be able to accomplish what needs to be done at each meeting.
Well-run legal meetings keep the momentum of your firm going and can have a positive impact on your firm's productivity and bottom line. By thoughtfully considering how you manage your office, employees, and clients for meetings, you'll have a more effective communication tool in your arsenal.