5 Ways for a Law Firm to Make the Most Out of Office 365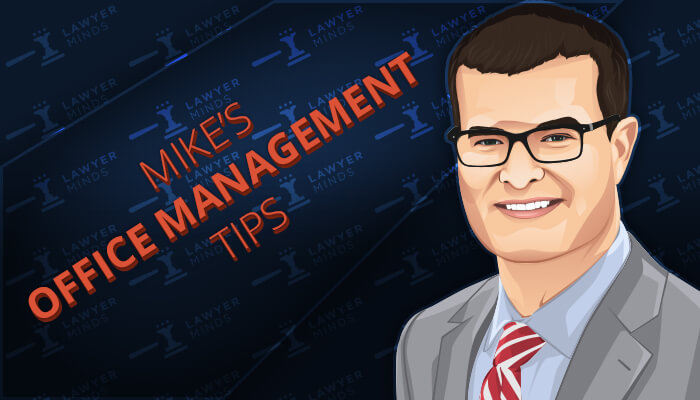 To run a successful law firm– whether it's a solo practice or a large firm– you'll need to not only excel in the areas of law you're practicing in, but also in all matters of running the practice itself. Running a legal practice comes with its own, unique set of challenges that even the most prepared lawyer setting out to start a new practice may find themselves overwhelmed with. I'm here to help make the job of running your law office just a little easier. Welcome back to Mike's Office Management Tips.
A busy law firm must take advantage of all the tools available to increase productivity and provide clients with optimal legal representation. One of the most essential productivity tools for the legal industry is Microsoft Office 365. The software offers various options to support functions within a law firm and continually updates and improves to maintain relevance.
With so many options and programs, it's essential to know what tools are available and what each app offers. The five main applications are Microsoft Excel, Microsoft PowerPoint, Microsoft Word, Microsoft OneNote, and Microsoft Outlook. However, outside of those applications, numerous web-based tools can be used across platforms and devices. Some of the tools available include the following:
Teams
Exchange Online
Skype for Business
OneDrive
SharePoint
Bookings
Invoicing
Customer Manager
MyAnalytics
Flow
Planner
Graph API
StaffHub
Sway
Stream
Groups
With all of those tools, it can be overwhelming to know how best to utilize Microsoft's services. Let's take a look at five ways your law firm can make the most out of Office 365.
1) Understand the Benefits of Email Encryption
Office 365 offers an email encryption feature that can catch and send sensitive data via email. You have the option of setting up the rules to define specific conditions for encryption, so the encryption will be triggered at any time that condition is met.
This means that if you're sending a sensitive document to a client, you can set it up so they can view the encrypted message by either getting a one-time passcode or signing into a Microsoft or Office 365 account. Clients also have the ability to reply with an encrypted email.
You won't have to worry about sensitive data ending up in the wrong inbox when you have the proper encryption settings.
2) Manage Projects With Microsoft Planner
Microsoft Planner is a new project management tool that lets you collaborate with others on projects in a streamlined manner. With its organization features, you can create different stages of a project and insert necessary tasks. The tasks appear as cards that you can assign to team members, attach documents from Office 365, and track project progress. This tool has strong productivity potential, considering how often law firm employees collaborate with one another.
3) Improve Workflow and Functionality  
The individuals you work with day in and day out have different roles, responsibilities, and projects going on. To encourage productivity and provide the best legal representation for your clients, you need to be able to share, manage, and integrate workflows.
With Office 365, your team can share data and documents, collaborate on projects and tasks, and coordinate on legal matters. For example, tools like Skype can provide easy access to web meetings between members of your law firm and its clients.
4) Improve Client Relationship Management
Client relationship management is essential for any law firm. With the right Office 365 applications, like SharePoint and Dynamics, your team will be able to store, manage, and track communications with clients. This will make managing a heavy caseload easier, and you're likely to improve client acquisitions when your firm stays organized and committed to its mission.
5) Safely Store Documents and Files
You know how crucial it is to be able to store and manage files and documents safely and efficiently. Files, emails, Word documents, Excel spreadsheets, and more can easily be stored within Office 365 applications. You'll want to utilize tools like SharePoint, OneDrive, and Exchange. Not only will those programs ensure your files are accessible, but you also won't have to worry about losing data or having sensitive information getting into the wrong hands.
With all the versatile services included within Microsoft Office 365, it has a lot to offer for a law firm. Its cloud service provider will ensure you can remain vigilant and on top of your security, so you reduce the risk of jeopardizing a client's case or continually having to worry about your firm's organizational capabilities. Instead, you'll be able to spend more hours solely focused on your clients.