The Importance of Task Management Tools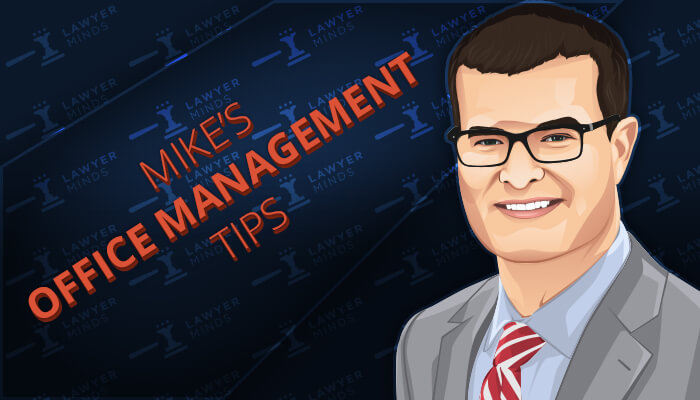 To run a successful law firm– whether it's a solo practice or a large firm– you'll need to not only excel in the areas of law you're practicing in, but also in all matters of running the practice itself. Running a legal practice comes with its own, unique set of challenges that even the most prepared lawyer setting out to start a new practice may find themselves overwhelmed with. I'm here to help make the job of running your law office just a little easier. Welcome back to Mike's Office Management Tips.
— Mike Campbell
Successful law firm task management involves efficiently planning, controlling, and finishing projects to meet your firm's specific goals—client-center or otherwise. Whether you realize it or not, different projects inherently have different workflows. For example, your client intake process is a workflow that includes tasks like creating a client intake form.
Trial attorneys are faced with new challenges on a daily basis. From investigating new potential cases, competing with other firms, and more, everyone in your firm wears multiple hats every day. To execute tasks without losing track of activity or missing a deadline, it's important to use task management tools.
Getting Started With Law Firm Task Management
Whether you're just starting to implement an official task management system or you're looking to improve what you already have, ask yourself the following questions:
How do you maintain a list of tasks?
How do you keep track of deadlines?
How do you track who is in charge of different tasks?
Where do you keep track of new ideas?
How do you follow up on different tasks?
How do you avoid forgetting tasks?
How do you prioritize tasks?
Depending on the answers to those questions, you'll want to look into task management tools so you can improve your law firm's productivity and efficiency. You'll also want to map out your law firm's current workflow. You can do this by taking a look at your to-dos, in-progress, and completed tasks. Make note of what you do daily, weekly, and monthly—including each stage within individual workflows.
Improving Project Management and Workflow With the Right Software
It's important to understand that project management and task management are two separate concepts that require different tools. Whereas one-time projects have a clear beginning and end, like opening and closing a client's case, workflows are repeatable systems that regularly occur.
As you start to analyze how your practice currently operates, you'll notice shortcomings and holes in processes. This is not something to be discouraged by. Instead, you'll see precisely where you need to make changes so you can better serve your team and clients.
If you have a smaller firm, you might be tempted to ignore task management programs until you grow. Everything might even look like it's operating smoothly. As soon as you start to grow, however, you'll find processes going awry. The sooner you start focuses on managing aspects of your law firm efficiently, the better off you will be as your law firm expands its staff and clientele. Task management requires discipline and daily practice—much like being an attorney. Once you learn to manage your law firm's tasks, you'll be on your way to sustainable growth.
Popular Project Management Tools
Depending on your law firm's size, you may be able to hire a legal project manager. If not, there are a number of programs that can help you manage ongoing workflows. Some of the most popular task management tools include:
If you haven't already, look into implement task management software in your law firm. Doing so will help your practice be more efficient, organized, and focused. Whether you look for all-in-one software or utilize different software for specific tasks, weaving new technology into your practice will improve its overall function.