Going Paperless: What to Shred and What to Keep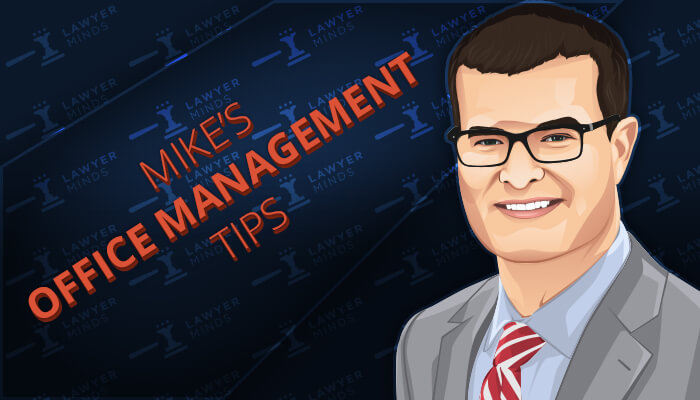 To run a successful law firm– whether it's a solo practice or a large firm– you'll need to not only excel in the areas of law you're practicing in but also in all matters of running the practice itself. Running a legal practice comes with its own, unique set of challenges that even the most prepared lawyer setting out to start a new practice may find themselves overwhelmed with. I'm here to help make the job of running your law office just a little easier. Welcome back to Mike's Office Management Tips.
— Mike Campbell   
With how today's technology has impacted the legal profession, law firms are continually looking for ways to update their business. For many, that means going paperless. While the idea of digitizing records can seem overwhelming, there are so many benefits to doing so.
It's important to remember that this is not an overnight process. Depending on the size of your firm and your current caseload, it could take months, or even longer, until you can really call yourself a paperless practice. In this edition of Mike's Office Management Tips, we'll take a look at how you can improve your law firm by going paperless and just what steps to take to initiate the process.
The Benefits of Going Paperless
Even the less complex claims often result in hundreds of pages of documentation. When you have to deal with actual pen and paper, rummaging through stacks can be overwhelming and time-consuming. While going paperless doesn't mean you won't ever touch another piece of paper again, when you do go digital, you'll be able to:
Save Time. When you can reduce the time spent doing office work, you'll be able to focus more on clients' cases. When you have a document management system, you won't have to search through hundreds of files to find a single document. Instead, you'll be able to use the system to call up a document whenever you need it. In addition to that, you'll save time on client intake.
Save Money. Manually filing documents, having the resources to label a filing system, and going through thousands of pieces of paper come at a cost. When you can remove paper, staples, paperclips, etc., from your workflow, you'll see a decrease in the expenses used to manage your office.
Enhance Security. When your documents are stored electronically, you can restrict your files and ensure only those who have the right password can access them. You can also backup your data. In the event of a disaster or data breach, you won't have to worry about your clients' information being gone forever. In regard to client confidentiality, you'll find it's easier to comply with your obligations when you go paperless.
Boost Productivity. When you no longer need to be in the office to access your files and documents, you'll end up saving time and getting more work done. And when you don't have to spend countless hours sorting through physical paperwork, you can spend time working on clients' cases and your law firm's marketing.
Improve Client Experience. When you're able to pull up what you need, when you need it, you won't waste your time or your clients'. Instead, you can spend more time providing quality legal representation.
How Your Law Firm Can Go Paperless
To ensure you have a smooth transition, you're going to want to invest in different hardware and software. In regard to hardware, make sure you have a document scanner, extra computer monitor, tablet, shredder, and a physical backup of your information. As far as software goes, Adobe Acrobat is a popular option for law firms. You'll also want to look into using document automation software and cloud storage.
For example, our office uses Fujitsu's "Scansnap" models.  We have a larger scanner for bigger projects, similar to the iX1500, that comes with Adobe Acrobat included for free (you will want to confirm that this offer still exists). Each of our team members also has a portable S1300i that we use for both desktop and travel – this model is particularly handy during depositions if you need to scan and send something to the court reporter/opposing counsel.  While slower than the larger models, this small model is worth its weight in gold.
Once you have the equipment you need, it's time to determine what your paperless workflow will be. Start getting your documents scanned and saved, and think about what you want your data security plan to be. You'll need to determine what risks to your clients' data exist, what the consequences of those risks are, and what measures will need to be taken given the risk.
In relation to that – some people ask what we do with all the paper we receive and scan in.  Well, while you can have someone on staff shred all scanned paper, we've found it beneficial to outsource our shredding to an environmental shredding service that recycles the paper.  Not only does this save time, but it also gives me peace of mind knowing our documents are securely shredded and reused in an environmentally friendly fashion.
These steps alone can take months, so don't worry if it seems like the process is taking forever.  You're looking at the long-game here. Once you have a grasp on how you're going to handle things without paper, you can train your current employees. Ensure everyone knows how to properly handle digital files and what to do if a threat occurs.
The sooner you get started with going paperless, the less stressful the task will be. Soon, instead of grabbing a legal pad and a pen of paper for a meeting, you'll find yourself using your smartphone or tablet. You and your entire staff will get used to storing data on a cloud drive, and you won't have to worry about sorting through paperwork, documents getting lost, or client information getting into the wrong hands.