Digital Marketing Strategies for Your Law Firm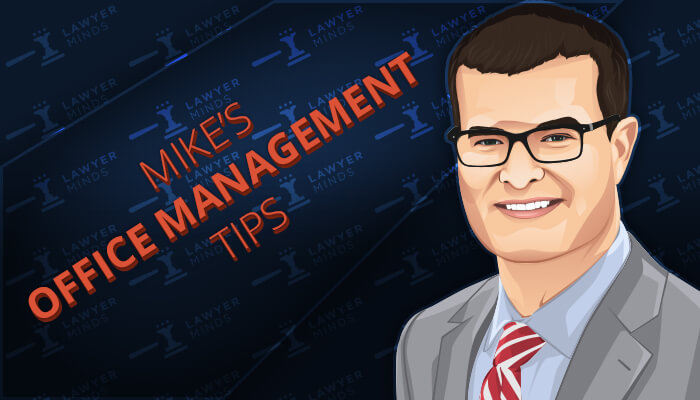 To run a successful law firm– whether it's a solo practice or a large firm– you'll need to not only excel in the areas of law you're practicing in but also in all matters of running the practice itself. Running a legal practice comes with its own unique set of challenges that even the most prepared lawyer setting out to start a new practice may find themselves overwhelmed with. I'm here to help make the job of running your law office just a little easier. Welcome back to Mike's Office Management Tips.
— Mike Campbell
To compete in today's market, a law firm needs to have a well-maintained website, active social media profiles, and a compelling advertising presence. While clients still find legal representatives by word-of-mouth and through referrals, it's often easiest to type a quick search into Google and check out the first page or two of results.
If you're looking to generate more organic traffic and leads, it's important to have a digital marketing plan grounded in search engine optimization (SEO). In this edition of Mike's Office Management Tips, we'll take a look at some SEO basics and some tactics your law firm should consider implementing.
SEO: The Basics
Given the nature of how law firms operate, SEO is the primary source of organic traffic for firms. In other words, a high percentage of clients use Google, the world's largest search engine, to find the right lawyer for their situation. If you're not on Google or are not ranking well, it's likely you'll be beat out by your competition.
The legal field is highly competitive, so it's important to have a strong SEO strategy if you want to maintain and grow your clientele. Say you're a Miami law firm that focuses on personal injury cases involving car accidents. If an injured crash victim wants to learn about their legal options and searches for "injury lawyer in Miami," you want your website to rank at the top of the search results, which would increase your chances of being contacted by that potential client.
SEO tactics are constantly evolving, so you'll want to consider having a dedicated team or digital marketing agency handle your firm's SEO. Some of the most common practices you should know about include targeting keywords, checking for broken links, reviewing your plugins, testing your page speed and functionality, and producing relevant and quality content.
Building Out Your Website's Legal Content
The best SEO strategies are based on content marking. With the right content, you'll not only be bringing potential leads to your website, but you'll also be sharing your knowledge and promoting your experience through blogs and videos. The right content establishes credibility and trust—two factors that are incredibly important when the relationship with a client and attorney is just beginning.
To boost your website's content, start with what you know—what you're passionate about. If you handle family law cases, share a blog post on the financial impact of divorce or how a couple can handle the process in a civil manner. Once Google recognizes you as an expert, potential clients will find your posts and view you as a leader in that area of law.
Social Media Marketing for Attorneys
Most lawyers are familiar with social media marketing, but it is an area that is misunderstood and underutilized. There are numerous social media platforms, but you need to know which ones will benefit you the most. Most successful law firms have Facebook, Twitter, and LinkedIn. The platforms you decide to use will depend on the audience you want to target and how those people engage with online content.
If someone isn't actively searching Google for a lawyer but is browsing social media to see what they can find near them, having the right social media presence can help you get noticed. You'll want to focus on posting content you think your potential clients would be interested in, in order for them to check out your page or profile and hopefully visit your site.
Digital Marketing Resources for Your Law Firm
While you have the option of taking on your website, social media, and advertising on your own, you can look to professionals in the digital marketing field to handle those elements of your law firm for you. Consider how unlikely it would be for you to advise a client to represent themselves. Digital marketing companies can work with your law firm to ensure you get the best results and convey a positive and present image to your target audience.