Designing Your Law Firm: Aesthetics, Functionality, and More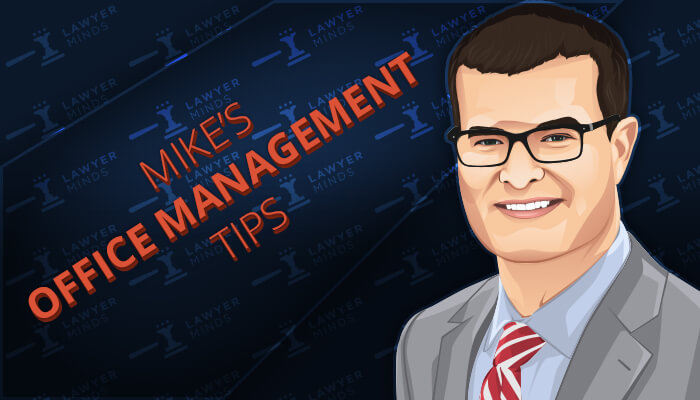 To run a successful law firm– whether it's a solo practice or a large firm– you'll need to not only excel in the areas of law you're practicing in, but also in all matters of running the practice itself. Running a legal practice comes with its own, unique set of challenges that even the most prepared lawyer setting out to start a new practice may find themselves overwhelmed with. I'm here to help make the job of running your law office just a little easier. Welcome back to Mike's Office Management Tips.
— Mike Campbell
Whether you're looking to revive your law office's space or you're in the process of designing a firm for the first time, the way the space looks and how it functions can have a significant impact on your success.
Law firms are constantly evolving to meet the needs of clients. To ensure you are adaptable and flexible, you need to make sure the space you're working in can adjust along with you. This can seem challenging, especially if you're starting from scratch. To grasp effective law firm designs, we'll take a look at modern offices, technology, and the importance of considering the client experience.
Designing a Modern Law Office
Modern law offices are designed with comfort, function, and appearance in mind. So whether you create your own vision or consult a professional interior designer, your law firm should be both inviting and professional.
To create an inviting space that will encourage clients to be comfortable, pay attention to the color palette you choose. Avoid dark colors, as they could add anxiety to already stressful situations. It's also a good idea to have plants, as they can make a room feel less stuffy. Finally, consider displaying pictures of your family and friends.
When it comes to creating a professional space, start with rich textures. Leather, wood, and woven textiles can convey seriousness and confidence. You should also hang artwork. Abstract is often best as it won't clash or create an unwanted theme. In your office or the space you work privately with clients, incorporate an impressive bookshelf, and hang your degrees and certifications on the wall.
While dedicated private office space is important, especially for client privacy, staring at the same four walls can get boring and repetitive, making you less productive. Outside of traditional offices, consider an open office setting that promotes connectedness. For example, a number of law firms are forgoing the traditional office designs for an intercommunicating staircase that offers a chance for collaboration.
Innovative Technology for Law Firms
Even if you think you've built and designed the perfect law firm, what you've put in place will become outdated over time. Because of that, it's important to remain flexible and make changes as necessary when it comes to your office design and the technology you've implemented.
You need to make sure the technology you have is supported internally in the office and externally in places where you could meet clients or in other locations like your home and employees' homes. You may need to consult an IT firm to ensure you have access to the technology you use in more places than the office.
There's also future-proofing to consider. While there's no way to future-proof your law office entirely, you should spend time planning and analyzing what role the workplace will serve in the next decade. Then, try to budget for changes accordingly, including potential growth, staff increase, space decreases, and technology advancements.
Consider the Client's Experience
The most important people that walk into your law firm are your clients. Because of that, it's important to keep them in mind when you're designing the layout. Put yourself in their shoes. Consider what it would be like to have been injured in an accident, unsure of what to do, and be walking into a law firm for the first time.
Would you want to be greeted by a receptionist and have a comfortable waiting area to sit in? Or would you rather follow signs to your lawyer's office? What type of furniture seems like it would be the most comfortable but still structured? What about the sounds you're likely to encounter when you first arrive? Are there options when it comes to meeting places? Would you be more comfortable in your attorney's office or out in the open?
When you put yourself in the shoes of your client, you'll have a better idea of how you should go about designing your law office. Not only will you have a custom space that lets you practice law to the best of your abilities, but your clients will feel comfortable and be willing to let you help them get their lives back in order.