Creating the Right Law Office Environment for Employees and Clients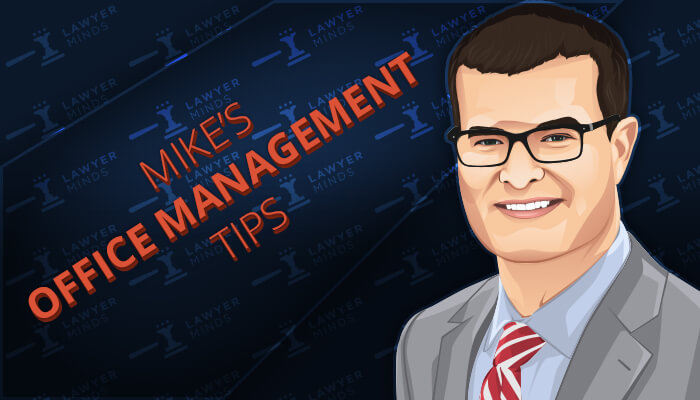 To run a successful law firm– whether it's a solo practice or a large firm– you'll need to not only excel in the areas of law you're practicing in, but also in all matters of running the practice itself. Running a legal practice comes with its own, unique set of challenges that even the most prepared lawyer setting out to start a new practice may find themselves overwhelmed with. I'm here to help make the job of running your law office just a little easier. Welcome back to Mike's Office Management Tips.
— Mike Campbell
Whether you're just opening your law firm or you've been in business for decades, it may be time to give your office's atmosphere and environment some thought. Even with a limited budget, it's important to present more to your employees and clients than just a desk, a phone, a computer, and filing cabinets. Your law offices should not only welcome clients warmly, but be a second home for your employees. In order to create the right office environment for your clients and employees, you'll want to focus on the visual aspects of your law firm, as well as how your firm's culture develops.
Creating a Welcoming Law Office Environment
Take a look around your law firm. Is the office dark? Claustrophobic? Dingy? Or is your space inviting and modern? If you think you're overdue for an office makeover, your clients probably think so too. It's possible a client could see your law firm before they see your face. They will base their first impression on the space in front of them instead of your attitude and mannerisms. That's why you want to ensure the space is welcoming.
To start, make sure to let in the light! Natural light not only brightens up and space, but it's also been proven to promote good health, better conversation, and a better overall mood. If you don't have a lot of windows, you can opt for cooler color light temperatures to replicate daylight. It's also important to have adequate climate control. Not too hot, not too cold. Uncomfortable temperatures are a distraction, to say the least.
Once you have your lighting and temperature down, it's time to look at the fixtures and furniture. Start by removing clutter. Light, open spaces are more conducive to quality conversations. You want the furniture you have to invite clients in. Make sure the pieces you have are both attractive and comfortable.
Building a Positive Law Firm Culture
While a welcoming law office environment can ensure clients are comfortable, that's not enough for employees. Law firms need to have their culture under control. When a firm lets office politics grow and become all-encompassing, it can interfere with productivity and the service the clients receive. In order to avoid those issues, consider the following:
Openly Communicate
It's important to communicate as openly as possible with your employees. This includes discussing career advancements, changes in pay, layoffs, or opening and closing offices before they make their way to the rumor mill. If employees think they know what's going on, misinformation will be spread, and it will be harder to clarify what's actually going on.
Track Productivity
If you're unaware of what associates are doing daily, you won't be able to accurately assess how employees are managing and if any changes need to be made. This can also lead to issues if a problematic employee is not being corrected and good employees grow resentful. To easily track productivity, consider implementing a law firm management tool that will track how many minutes and hours are spent on a case and what was accomplished.
Offer Employee Goals
It's important that everyone who works at your law firm have a goal they're aiming for. Make sure your expectations are clear and reasonable. Ongoing check-ins are a good idea to learn how your employees are achieving their goals and if assistance is needed. This will also make it harder for toxic employees to undermine an employee who is meeting clear goals.
Reward High Achievers
Once you're able to accurately track productivity, you'll be able to easily identify your law firm's high-achievers. Once you're aware of who is delivering the highest quality work, consider rewarding them and recognizing them publicly.
Given the nature of the industry, the struggles clients are going through, and the possibility of toxic office politics, it's important to create the right office environment for your employees and clients. When you do, you'll have employees who are more motivated on cases, which will improve the chances of favorable outcomes for your clients.