Balancing the Benefits of Paid Work and Pro Bono Work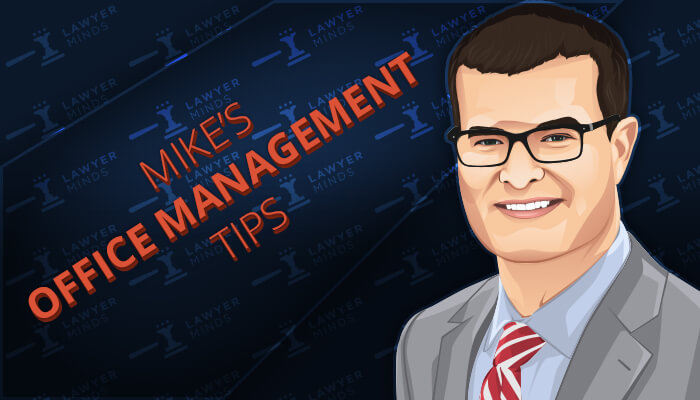 To run a successful law firm– whether it's a solo practice or a large firm– you'll need to not only excel in the areas of law you're practicing in, but also in all matters of running the practice itself. Running a legal practice comes with its own, unique set of challenges that even the most prepared lawyer setting out to start a new practice may find themselves overwhelmed with. I'm here to help make the job of running your law office just a little easier. Welcome back to Mike's Office Management Tips.
— Mike Campbell
When you entered the legal profession, you likely had some expectations about salary and what your life would be like in regard to economic stability. For lawyers who work with a reputable law firm with a reliable caseload, there are a number of benefits outside of paid work that may be available. It's essential, however, to also remember the importance of pro bono work.
New lawyers are often interested in pro bono work and want to know what a firm's experience is with providing this type of legal aid. To get an idea of how to balance paid work and pro bono work, let's take a look at the benefits of both.
Law Firm Employee Benefits and Perks
Whether you're an associate or other employee at a law firm, it's important to take full advantage of the benefits the firm offers. In addition to that, partners should be aware of what employees expect from their firm. While taking paid work provides a paycheck, there are other benefits that those working at a law firm can likely expect to receive. The most common include the following:
Health Insurance. Health insurance is often considered the foundation of employee benefits. It's also often one of the largest expenses for any business. While large firms may offer multiple plans from several insurers, smaller firms typically only offer one or two options. Health maintenance organizations (HMOs), preferred provider organizations (PPOs), and point-of-service (POS) are the most common types of plans.
Life Insurance. Many law firms offer some level of basic life insurance coverage. The most common amount is one times your salary. Not everyone's need for life insurance is the same. If you have children, a spouse who doesn't work, or a spouse who works but would be impaired by your loss of income, you have a need for life insurance. Basic employer-provided insurance isn't always enough, so you should explore your options if you need or want more coverage.
Retirement Plan. If your employer sponsors a retirement plan, you should consider taking advantage of it. Your contributions will leave your paycheck without you ever seeing those dollars, which will streamline and automate your retirement savings process. Some employers will match your retirement plan contributions up to a certain percentage of your salary, which will increase your takeaway later.
The Benefits of Taking Pro Bono Cases
Pro bono work includes a broad range of volunteering with a legal angle. In addition to providing legal services, lawyers working pro bono may provide training or conduct legal research. When you provide quality pro bono work, you have the opportunity to grow as both a lawyer and person and achieve a sense of self-fulfillment—which is arguably the most important benefit of providing free legal aid. Some of the other benefits of taking pro bono cases include the following:
Finding New Lawyers. If you're in the process of recruiting new attorneys, potential members may ask about the firm's commitment to pro bono work. You'll want to have an active pro bono program in your hope to attract new talent.
Diversifying Your Legal Experience. Pro bono work often gives attorneys the opportunity to practice in an area of law that isn't their normal focus. Not only does this open the door for potential collaborations with lawyers outside of your firm, but you may find it rewarding or even fun to delve into a practice area you haven't visited since law school.
Enhancing Your Firm's Reputation. Doing pro bono work is good for your law firm's image. A number of awards and recognitions for law firms require information about pro bono activity. When you provide this type of community service, your likelihood of receiving such honors increases.
As you can see, a healthy balance of paid work and pro bono work can benefit both your career and your law firm. If you haven't yet, you can get started with pro bono cases by contacting your bar association or local legal services agency.